Meet Brittney!
AUGUST 2022
We are excited to introduce you to Brittney, OHARA's new Field Case Manager in Omaha, NE.
Brittney is eager to utilize her Critical Care Nursing (CCRN) skills to help workers obtain the highest quality medical care so they can focus on their recovery and return to work/life activities.  She is an outstanding communicator and passionate about providing education so all parties have a clear understanding of the injury/diagnosis, treatment plan, medical status, and know what to expect throughout the claims process.
We cannot wait for you to work with Brittney and discover the difference of working with OHARA's 'Best in Class' Nurse Case Managers!
Contact OHARA today. Referral@oharallc.com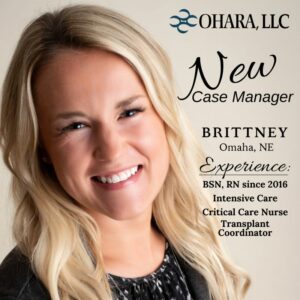 2022-08-15T11:37:54-05:00
AUGUST 2022 We are excited to introduce you to Brittney, OHARA's new Field Case Manager in Omaha, NE. Brittney is eager to utilize her Critical Care Nursing (CCRN) skills to help workers obtain the highest quality medical care so they can focus on their recovery and return to work/life activities.  She is an outstanding communicator and passionate about providing education so all parties have a clear understanding of the injury/diagnosis, treatment plan, medical status, and know what to expect throughout the claims process. We cannot wait for you to work with Brittney and discover the difference of working with OHARA's 'Best in Class' Nurse Case Managers! Contact OHARA today. Referral@oharallc.com
https://oharallc.com/testimonials/meet-brittany/