Welcome Emily!
May 2023
OHARA is excited to introduce Emily as the newest addition to our growing Nebraska Field Case Management Team! 
Emily's drive and ability to connect with people have resulted in leadership roles throughout her nursing career.  We are ecstatic to add another incredible nurse to the OHARA family.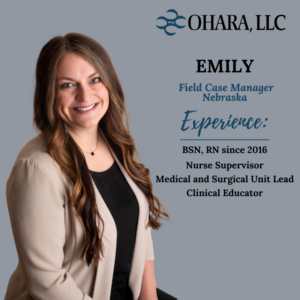 Meet Alisa
March 2023
OHARA is excited to welcome Alisa Arend to the team as a Telephonic Case Manager.  
Alisa has experience working as a cardiac nurse, vascular nurse and worked as a certified athletic trainer in an orthopedic clinic.
Additionally, Alisa previously worked as a Claims Representative.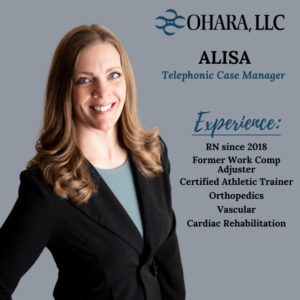 Welcome Elise to our Sioux Falls Team of Nurses!
February 2023
We are excited to announce the addition of Elise to our case management team in Sioux Falls. She comes to us from the largest healthcare system in South Dakota.
Elise honed her medical management skills as a rural health case manager in hospitals, clinics, and nursing homes. She has experience in Pulmonary, Orthopedics, Neurology, and Float Pool.
Elise will instantly impress you with her passion to help others, skilled coordination of care, and collaborative approach.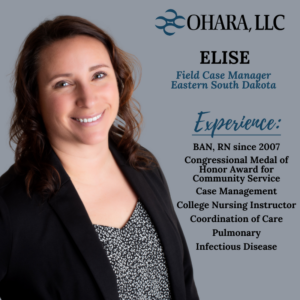 OHARA is growing strong in Kansas/Missouri!
FEBRUARY 2023
We are excited to introduce you to Tiffany. She has joined the OHARA family as a field case manager in the Kansas City area.
Tiffany built a hospice business from the ground up. She comes to OHARA as a prior Director of Clinical Services.
She has experience as Director of Nursing Education, managing nurses and patient care in the specialties of Hospice, Hematology, and Oncology.
Tiffany is precise, a great communicator/educator, and is eager to get started in this next chapter, helping employees toward recovery, return-to-work and life activities.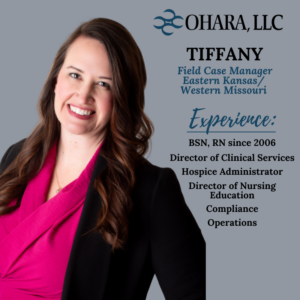 IOWA IS GROWING!
August 2022
OHARA is happy to introduce you to our newest Nurse Case Manager located in Iowa City, Iowa.
Sarah comes to OHARA with an ideal background including critical care, hospital case management, discharge care coordination, and broad experience in orthopedics and neurosurgery. Sarah has a passion for helping others.
Her sincerity, experience & infectious sense of humor instills confidence in those she works with.
We cannot wait for you to work with Sarah!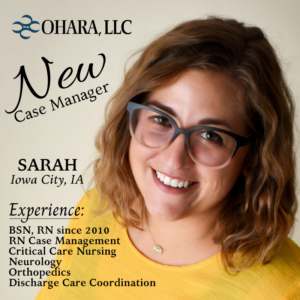 OHARA a Proud Supporter of Kids Chance SD
AUGUST 2022
OHARA is a proud supporter of Kids' Chance. We had the opportunity to be a Premier Sponsor of the Kids' Chance of SD Golf Fundraiser at the beautiful Grand Falls Casino & Golf Resort this week. OHARA teamed up with Sanford's injury management team to support KCSD's goal of funding educational scholarships for children affected by a parent's serious or fatal work injury. This event exceeded expectations and brought in nearly $50,000 for the cause! A huge "thank you" to everyone for their participation and support.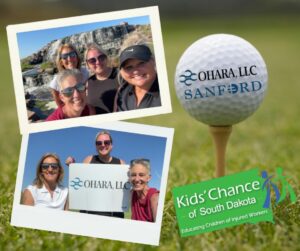 Meet Brittney!
AUGUST 2022
We are excited to introduce you to Brittney, OHARA's new Field Case Manager in Omaha, NE.
Brittney is eager to utilize her Critical Care Nursing (CCRN) skills to help workers obtain the highest quality medical care so they can focus on their recovery and return to work/life activities.  She is an outstanding communicator and passionate about providing education so all parties have a clear understanding of the injury/diagnosis, treatment plan, medical status, and know what to expect throughout the claims process.
We cannot wait for you to work with Brittney and discover the difference of working with OHARA's 'Best in Class' Nurse Case Managers!
Contact OHARA today. Referral@oharallc.com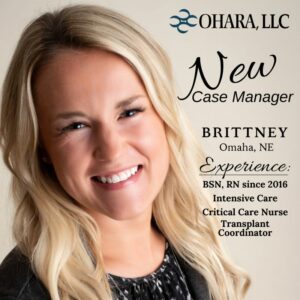 Three Is Better Than Two
JULY 2022
Please join us in welcoming Kelsey to the OHARA family as our 3rd nurse case manager in Central Nebraska. As the Emergency Room Manager, Trauma Nurse Coordinator, and Emergency Medical Services (EMS) Manager, Kelsey has extensive experience in the triage and treatment of traumatic injuries. Her communication, organization, and drive are unmistakable. These are characteristics that OHARA values in our nurse case managers as they lead to outstanding collaborative care.
Kelsey will amaze you with her medical knowledge, her relationships with area medical providers, and her passion for helping injured workers recover and return to work.
Contact OHARA today to discover the impact of working with Kelsey.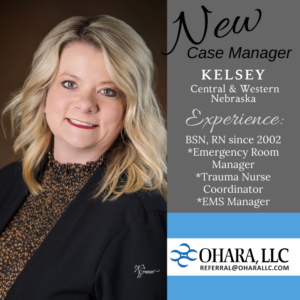 Let's Celebrate
MAY 2022
These beautiful and talented women are an integral part of our OHARA family.  Often working behind the scenes, their hard work and support does not go unnoticed.  They constantly impress us with their skills and their drive.  We would be lost without them!
We celebrate you today, but we are GRATEFUL for you every day!  Thank you for your dedication and commitment to OHARA.  Happy Administrative Professionals Day!
"No one is more cherished in this world than someone who lightens the burden of another." - Joseph Addison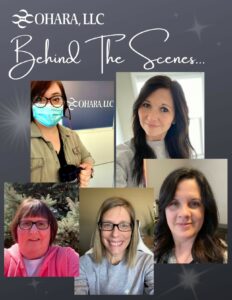 Achievements
MAY 2022
Congratulations to Micki, Lisa, and Sarah for completing the Diversity, Equity & Inclusion (DE&I)
Activator Series sponsored by the Sioux Falls Area Chamber of Commerce and Pathways to Inclusive and
Equitable Workplaces.
This was an extensive, 10-month program that provided the fundamental concepts, strategies, and skills to activate DE&I in the workplace.
We are proud of OHARA's commitment to providing an inclusive and equitable work environment and culture for all of our staff members.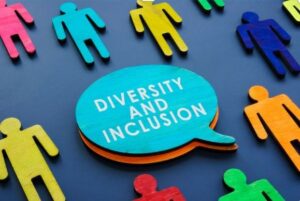 OHARA Expands to Spearfish!
MARCH 2022
Please join us in welcoming Roxy to our Western SD Team of Registered Nurse Case Managers!
Roxy's dynamic background in Orthopedics, Podiatry, and Surgical RN Services lends to her vast knowledge in the treatment and coordination of care for common workplace injuries.  Roxy has an energetic personality and is an incredibly effective communicator with an established network of trusted professionals in and around The Black Hills.
We can't wait for you to work with Roxy!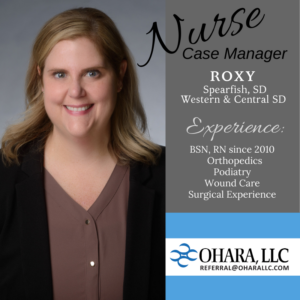 Kansas City Here We Come
JANUARY 2022
OHARA expands our reach to Kansas City!  Please join us in welcoming Dana to the OHARA family!
Dana has an impressive nursing background with experience in the emergency room, ICU, and operating room.  Dana was a Transplant Coordinator and developed a holistic approach for caring for her patients.  Dana is exceptionally caring.  She effortlessly forms close and trusting connections with others.  She values her relationships and is an outstanding communicator.  We know you will be as impressed with Dana as we are!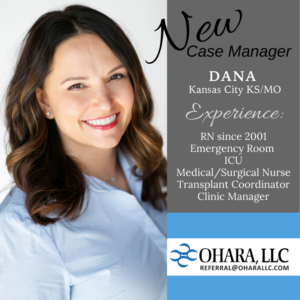 Welcome Amy!
AUGUST 2021
The OHARA family continues to grow!  Please join us in welcoming Amy to our Central and Western Nebraska Team of Registered Nurse Case Managers.
Amy comes to OHARA with an impressive background in treating traumatic and complex injuries in the Emergency Room and ICU.  She has extensive experience with orthopedic injuries, medical/surgical care, and utilization review.
We can't wait for you to work with Amy!  We know you will be amazed by the impact she can have medically managing your workers' compensation claims.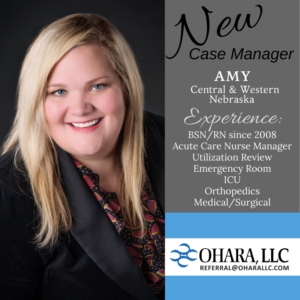 Here We Grow Again!
JUNE 2021
OHARA is proud to announce we are officially open for Field Case Management in MISSOURI!  Please welcome Carrie to our OHARA family! Carrie is an experienced Registered Nurse with a strong background in Occupational Medicine, ICU, Medical/Surgical Care, and most recently developed an Occupational Medicine Program with a large local Manufacturer. Carrie can service your Central and Southwest Missouri and Northwestern Arkansas needs.  Contact us today and experience the difference of working with the "Best in Class"! referral@oharallc.com